Beedrill

The Poison Bee Pokémon
Information
Number
15
Type
Abilities
Swarm

Sniper (Hidden)

Adaptability (Mega Beedrill)

Height
3'03" 1.0 m

4'07" 1.4 m (Mega Beedrill)

Weight
65.0 lbs. 29.5 kg

89.3 lbs. 40.5 kg (Mega Beedrill)

Leveling rate
Medium Fast
EV yield
+2 Atk +1 SpDef
Beedrill is a dual-type Bug/Poison Pokémon. It can Mega Evolve.
Locations
Leveling Moves
Abilities
| ABILITY | DESCRIPTION |
| --- | --- |
| Swarm | Powers up Bug-type moves in a pinch. |
| (hidden) | Powers up moves if they become critical hits. |
Pokedex
May appear in a swarm. Flies at violent speeds, all the while stabbing with the toxic stinger on it's rear.
Mega Evolve
Beedrill evolves into Mega Beedrill by holding Beedrillite during battle.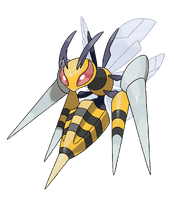 Beedrillite locations:
Gained ability:
| Adaptability | Powers up moves of the same type. |
| --- | --- |