Pidgeot

The Bird Pokémon
Information
Number
18
Type
Abilities
Keen Eye

Tangled Feet

Big Pecks (Hidden)

No Guard (Mega Pidgeot)

Height
4'11" 1.5 m

7'03" 2.2 m (Mega Pidgeot)

Weight
87.1 lbs. 39.5 kg

111.3 lbs. 50.5 kg (Mega Pidgeot)

Leveling rate
Medium Slow
EV yield
+3 Spd
Pidgeot is a dual-type Normal/Flying Pokémon. It can Mega Evolve.
Locations
Leveling Moves
Abilities
ABILITY
DESCRIPTION
Keen Eye
Prevents other Pokémon from lowering accuracy.
Tangled Feet
Raises evasion if the Pokémon is confused.

Big Pecks

(hidden)

Protects the Pokémon from Defense-lowering attacks.
Pokedex
It spreads it's gorgeous wings widely to intimidate enemies. It races through the skies at Mach-2 speed.
Mega Evolve
Pidgeot evolves into Mega Pidgeot by holding Pidgeotite during battle.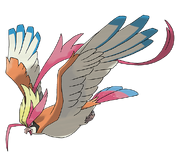 Pidgeotite locations:
Gained ability:
| No Guard | Ensures attacks by or against the Pokémon land. |
| --- | --- |